This is an example of a Family History:
The Journeys of Joyce and Peter Peeters – A Family History
By Michael Peeters
The three stories in the above e-book are an amalgamation of Joyce and Peter's memories of their life, love and travels – from their meeting on New Year's Eve 1950 at the New Settler's Club in Auckland, New Zealand, until the present day; Peter's birth in the small town of Oisterwijk on September 30, 1919 until he met Joyce on that fateful night, and Joyce's life from her birth in Golcar, Yorkshire, on October 20, 1929.
The stories are based on interviews I had with Peter at Cheverel (the family home in Western Road, Cheltenham) when I visited there with my former wife Robynne and son Liam in 1997/1998. Since then a lot of water has passed under the bridge, with the 'Old Dutch's' (and the younger 'Golcar Lily's') extensive travels effectively coming to a close in Perth, WA, in October 2001 after they settled permanently in Coolbinia. Apart from one or two short side trips in 2003 and 2004 to Sydney and Brisbane – to see Joyce's older brother Phil and the couple's oldest son Anthony and his children Matthew, James, Alexandra and James – this was their last major trip. But it was still a huge shift, considering Peter was by then in his early 80s and Joyce in her early 70s. Their never-say- die attitude was with them to the very end of their 63-year marriage.
The years since they arrived in Perth in late-2001 were for the most part delightful, as Joyce and Peter could now enjoy unlimited quality time with their four, Perth-based grandchildren. Youngest children Ingrid and Michael (me) also both had young kids of a very similar age, so Peter was especially in his element. As Joyce always said, "Peter loved children until they got too big to pick up and play with, then he lost a bit of interest!" Coming to Perth gave Joyce and Peter a new lease of life – enabling them to live in their own home for much longer than they could have back in England without family support. The siblings all chipped in – with second son Tim helping to furnish the new home with a variety of affordable, old furniture.
In their later years in particular, Ingrid especially helped out with cleaning the house and making dinners for the two of them – until the family called upon the help of the excellent 'Meals on Wheels' service and the very useful HACC (Home and Community Care) which helped with garden maintenance and the like.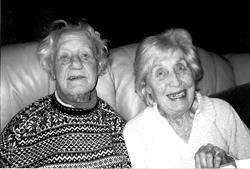 Mum & Dad's 60th wedding anniversary, July 27, 2011 Joyce and Peter's 60th wedding anniversary was on July 27, 2011 and the smiles on their faces were priceless when mid-morning on the big day, congratulations cards arrived from the Queen, Governor-General, Prime Minister, Premier, Leaders of the Opposition (State and Federal) and local MPs.
The idea for the 60th anniversary cards was spawned after I had gone to the UK for a three-week holiday and my old school friend Jason Pughe suggested it. I don't think I had ever seen the two of them so proud, (especially Mum). Unfortunately, in late-2011, Peter's health deteriorated and he became so frail that the family was forced to place him in permanent residential care
at the Embleton Aged Care facility. Separating the two of them was heart-wrenching and it took another six months before a place at Embleton could be found for Joyce and enable her to be reunited with Peter. In that time, the children took turns to spend time with Mum, staying over regularly at the house so that she did not feel so alone.
Finally, in March 2012, a double room at Embleton became available and for the next 10 months or so the two of them lived relatively happily, although Joyce's dementia became steadily worse. Joyce and Peter both passed away in 2013 and are now singing with the angels in heaven.