Woman at War – the story of an environmental eco-warrior
Quirky, zany, surreal and eccentric.
These are just a few of the adjectives that describe Woman at War: the new Icelandic film by Benedikt Erlingsson, commencing soon at Luna Leederville.
The film focuses on the titanic battle between one woman, and the mining company that is determined to build a new aluminium smelter just outside Reykjavik.
In a 'David and Goliath' encounter, dogged eco-activist and choir leader Halla (Halldora Geirharosdottir) sets out to sabotage the power lines the mining company depends upon to carry out its construction work.
The film starts with Halla disrupting the power supply by heading out into the Icelandic wilderness and firing a steel cable across the electric pylons feeding the national grid.
The ensuing chaos not only halts the mining company's operations – but also appears to shut down much of Reykjavik!
When the damage is fixed and the mining company's operations re-commence, Halla continues her campaign undeterred: attacking further pylons and making front-page headlines throughout the country.
Not surprisingly, this upsets both industry and Government yet, despite her audacious forays, Halla is lucky and remains at large.
Eventually, in desperation, the authorities deploy heat-sensing drones -but even these cannot find her at first – as she athletically dives under culverts and into undergrowth to avoid detection.
Amazingly, while all this is going on, Halla can still carry on her 'normal' life as a choir instructor.
None of her students appear to have any idea of what she is doing – apart that is, from one 'Ministry' man (Jörundur Ragnarsson) – who has been quietly helping her plan the strikes.
However, even he begins to back off when her reputation as an anarchist grows, and eventually he wants nothing to do with her.
Another interesting sub-plot involves Halla putting her name down to adopt a Ukranian child several years before.
Of course, when a letter arrives signalling the child's availability, she is put in a difficult position.
Halla also has a twin sister – a mystic and yoga practitioner – who had originally agreed to support her in the adoption, but has now decided to go and live on an ashram in India.
This complicates the adoption plan for Halla, who must now decide between 'saving the world' – and becoming a mother to a four-year-old girl.
What makes the film so quirky however, is not just its premise, but the humour and absurdity the director injects into the storyline.
This really helps lighten what is essentially a very serious topic (climate change and saving the environment).
Having an authentic, Icelandic three-piece band pop up regularly in the background to accompany the soundtrack is a real masterstroke, as are the three Ukrainian dancers who appear 'on set' in full costume, whenever the country is mentioned in the film.
Add to this the excellent acting (with a wonderful performance
by Geirharosdottir), and the magnificently rugged Icelandic scenery, and this film is bound to be a hit.
Woman at War starts at Luna Leederville on April 4, 2019.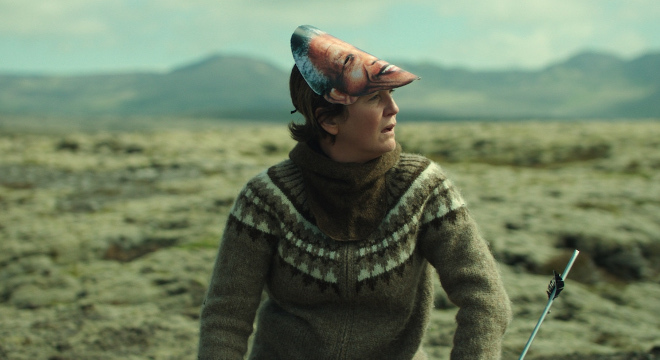 By Mike Peeters