Wajib – a revealing statement of life in contemporary Israel
Conspiracy theories and paranoia, as well as a healthy dose of fun and laughter, are all evident in Wajib – The Wedding Invitation – a quirky new comic drama from Palestinian writer-director Annemarie Jacir.
Dry humour and understatement is the order of the day in this bittersweet comedy of estrangement and identity.
The film is so watchable because the stories are so subtly told – particularly the sometimes-fractious relationship between the father and son – and their opposing viewpoints.
A telling statement about life for Palestinians in modern-day Israel, Wajib is the story of a father and son who spend a day continuing a local tradition (or Wajib) driving around Nazareth delivering wedding invitations to friends and family.
This simple premise opens up a raft of family secrets and innuendo, including the open disapproval of the father Abu Shadi (Mohammad Bakri) of his son Shadi's involvement with a girl whose father was in the PLO in the 1970s.
Indeed, since Shadi (played by real life son Saleh Bakri) left Nazareth several years before to live in Italy, his father has been campaigning openly for him to leave his girlfriend and return permanently to Israel.
Shadi, however, will have none of it, as he loves the cosmopolitan European lifestyle and especially resents the way the Arabs in Palestine (who number only about 20 per cent of the population), are becoming increasingly marginalised.
Other 'darker' sections of the film include the 'on again, off again' prospect of Shadi's estranged mother coming to the wedding.
The mother, who abandoned the family many years before to run off to America with her new lover, is a source of great angst.
However, she is still loved by Shadi and his sister Amal (Maria Zreik), who plays the role of the forthcoming bride.
The comic nature of Wajib is highlighted in the sometimes hilarious interactions between father and son – and the many friends and relatives they visit in their quest to fulfil their obligations.
While Shadi is fashionable, wearing a pink shirt and red pants from Italy, his father can only sneer and accuse him of abandoning his roots to adopt the immoral and decadent ways of the West.
Similarly, Shadi wants no part of his father's determined wish to invite an undercover Israeli secret service friend of his to Amal's wedding.
There are many comic moments, such as when the two visit the house of a relative and their aggressive pet parrot takes a sizeable chunk out of Shadi's finger.
"He only bites people he doesn't like," says the owner.
Another more sinister twist occurs when the father accidentally runs over a small dog in a bad neighbourhood and refuses to stop, in case he says, the Israeli police get wind of it.
Wajib is showing at Luna Leederville from November 15, 2018.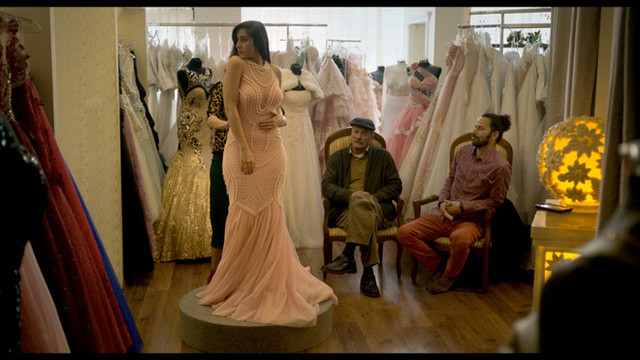 By Mike Peeters