Official Competition tests its superstars to the limit
Official Competition (Spanish: Competencia oficial) is a Spanish comedy drama movie directed by Argentinian filmmakers Gastón Duprat and Mariano Cohn and starring Penelope Cruz as Lola Cuevas; a tortured movie director with a lot on her plate.
In what is basically a 'movie within a movie', Lola has been drafted by multi-millionaire Spanish industrialist Humberto Suárez (José Luis Gómez) to produce a gleaming testimony for his 80th birthday by adapting a prize-winning novel (Rivalry) about two feuding brothers to the big screen.
In the film, the two brothers are played by legendary fictional Spanish actors, Félix Rivero and Ivan Torres.
The plot is explained early on and involves the younger brother, (portrayed with great enthusiasm by Hollywood heart throb Antonio Banderas), causing the tragic deaths of both his parents in a serious car accident while driving drunk.
When his older and richer brother (played by prestigious thespian Oscar Martinez) hears about the accident he is furious and immediately sets out to destroy his younger brother's life; doing all he can to ensure he gets the longest possible jail sentence for his crime.
The film is acted out in 'rehearsal mode' and set in a huge, cavernous studio contained within a large, impressive modern house, all decked out in marble and steel.
Official Competition explores the essence of acting and how a thespian's ego can dominate his or her personality to the point where they can make their audience believe almost anything.
This is illustrated early in the film when both actors are asked to cry in a scene, and each has perfected their own unique way of getting the tears to flow.
But what really makes the movie is the ongoing tension generated between playboy actor Felix and his sombre, much more serious co-star Ivan.
Felix is constantly competing with Ivan for 'brownie points' to show how he (Felix) is the better actor.
In a real poke at the Hollywood film industry, the directors use Official Competition to highlight the vanity and superficiality inherent in many commercial films, and underlining how 'the truth' always provides the best outcome in a film for any actor.
Official Competition is showing at Luna Leederville and Luna on SX from July 24, 2022.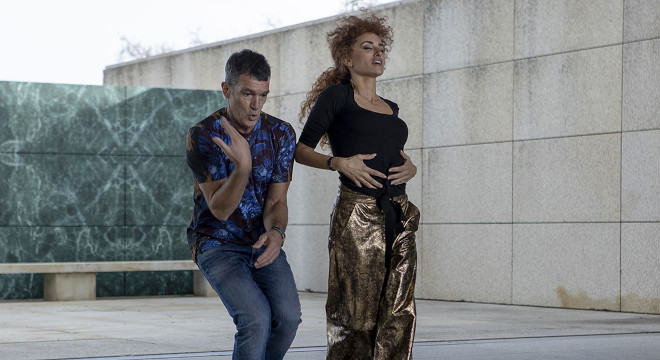 By Mike Peeters