Nomadland: An eccentric and enthralling tale of life on the road
Known for her quirky and eccentric roles, two-time Academy Award winning actor Frances McDormand is already being touted for another Oscar for her latest role in Nomadland.
In the movie, McDormand plays Fern: a widow and former teacher in the gypsum mining and sheetrock manufacturing town of Empire, Nevada.
The town of Empire was literally wiped off the map after the GFC, and Fern's anguish at losing both her job to the downturn and, shortly after, her husband Beau to cancer, is palpable in the film.
The movie is based on Jessica Bruder's 2017 non-fiction book, Nomadland: Surviving America in the Twenty-First Century, which outlines the rise of nomadic grey nomads travelling the US in RVs and campervans after the 2008 Global Financial Crisis (GFC).
It is also Chloe Zhao's first offering since The Riders, which was an extremely well-received film in its own right.
In Nomadland, McDormand produces her usual faultless performance with a moving and sometimes heart-rending display that is both rock solid, and absolutely devoid of self-pity or judgement about what fate has thrown at her.
On the road in her battered but much-loved campervan, she travels around the country doing seasonal work to make ends meet and keep body and soul together.
The real beauty of this film, however, lies in the people Fern meets along the way.
At the very beginning of the movie, we are informed that many of the characters involved are actually true-to-life nomads living on the road permanently, and it is they who provide the rich and diverse tapestry that makes Nomadland so fulfilling.
Travelling from town to town in mid-winter in the American mid-West is no picnic, and Fern has to deal with many challenges along the way.
Her first job is working in the Amazon warehouse in Nevada: something she has done before and which, according to Fern, "pays good money".
Once that job ends, she is forced to move on or pay what she believes is an exorbitant fee for parking her van in the Amazon caravan and RV park.
She heads to the Badlands in North Dakota for some casual tourist guide work, and it is there she bumps into (and not for the first time) another 'vanlifer': fictional middle aged fellow nomad David Strathairn who, as the move progresses, shows a romantic interest in Fern.
Despite a shaky start, relations between the two grow slowly, and they even travel in 'semi-convoy' to take up the next job vacancy.
Throughout Nomadland, the stark and barren beauty of the American mid-West provides an amazing cinematographic backdrop.
Fern's future is never certain though, even when she is forced to go back to her hometown to borrow money from her sister in order to fix a mechanical problem on the van.
Fortunately, her sister is understanding and even positive about Fern's nomadic lifestyle, comparing her to the early American pioneers who founded the country.
"Houseless not homeless", Fern appears utterly content and accepting of her existence, enjoying the simple things in life such as skinny dipping in a remote waterhole in Arizona, or chatting happily around the campfire with fellow nomads.
After the year we have had of social distancing and home quarantine in many Australian States, Nomadland is like a breath of fresh air, and Zhao captures beautifully the carefree, sometimes solitary, but always uplifting, existence of this unique group of people.
Nomadland starts at Luna Leederville, Luna on SX, Windsor Cinema and
Luna Outdoor on December 26, 2020.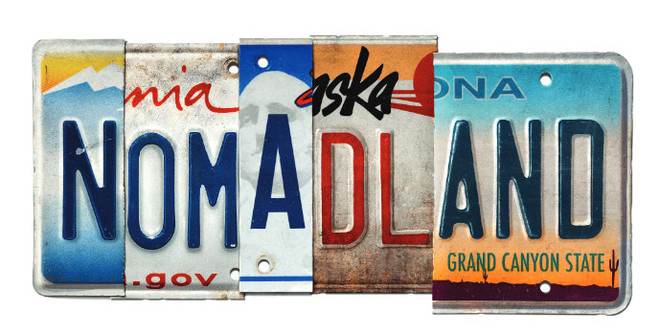 Caption: Fern (Frances McDormand) in Nomadland.
By Mike Peeters