New movie The Climb is worth the effort
If you like dark comedies, you will love The Climb.
Quirky, thought-provoking and at times a little eccentric, The Climb is the debut film for director Michael Angelo Covino, and depicts the sometimes-tortuous relationship between two best friends as they negotiate the twists and turns of life and love.
It is unusual for a film to be written, produced and directed by its two main stars: but this is the case in The Climb.
Covino (who both directs and plays Mike in the film) is the best friend of Kyle (the film's writer Kyle Marvin), with the action beginning in the French Alps where the two old schoolfriends are enjoying a fabulously scenic cycling holiday.
As they pound their way up the steep inclines on their racing bikes, Mike drops a real clanger when he admits, almost in passing, that he had slept with Kyle's current fiancé Ava (Judith Godrèche), before she and Kyle were even engaged.
He says the affair has been going on for years and, of course, Kyle nearly falls off his bike when he hears the news.
Understandably Mike's admission places quite a strain on Kyle's relationship with both Ava and Mike, with some quite chaotic twists and turns occurring as a result.
The Climb next shifts to a funeral service in middle America where we are not quite sure who has died initially but, fortunately, things become much clearer as the film progresses.
Giving too much away at this stage might spoil the film, but suffice to say, having a best friend like Mike does create a mountain of headaches for Kyle.
In true comedic style, Mike commits one gaffe after another, even to the point of attempting to repeat his first indiscretion with Eva with Kyle's new fiancé; mutual high-school acquaintance Marissa (Gayle Rankin).
To sum up, The Climb is basically a black comedy involving a hilarious succession of faux pas committed by an awful and exasperating best friend.
This is however, balanced by a series of forgiving and sometimes begrudging acceptances by Kyle who, by the way, is a super nice guy.
The performances throughout are insightful, beautifully delivered, and at times downright hysterical.
Both men exhibit such a strong chemistry that the film leaves the audience hoping that despite Mike's ongoing bad behaviour, the two old buddies will still remain BFF's (Best Friends Forever), no matter what.
The Climb is showing at Luna Leederville from Thursday October 29.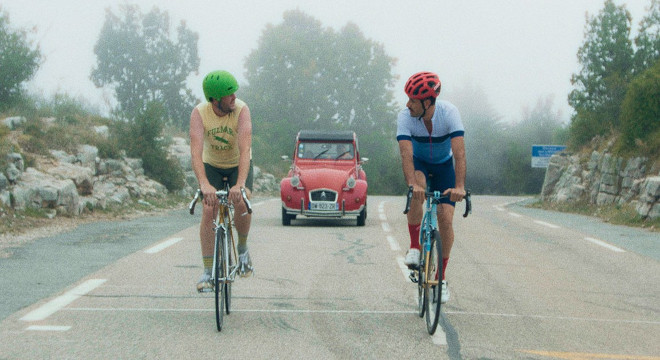 By Mike Peeters