New movie Lapsis puts the spotlight on corporate greed
Lapsis is a biting satire about capitalism and the pervading influence of technology: with writer/director Noah Hutton really 'letting fly' at corporate greed and the so-called 'gig economy'.
While attempting to overcome the hopelessness of his situation working as a low-paid parcel courier, Ray (Dean Imperial) is desperate to earn enough money to afford radical new hospital care for his ailing younger brother.
At the end of his tether, Ray contacts a shady friend Felix (James McDaniel), who he has heard knows about a well-paying job laying cable in national parks for a large corporate telecommunications company.
What Ray doesn't realise is there is a good reason Felix is offering him the job.
Not only does Felix take a good percentage of Ray's earnings, but Ray's 'trail name' (Lapsis Beeftech) also turns out to be the name of a disgraced Lapsis coder sacked by the company for nefarious conduct.
So, it is not much of a surprise when, after booking his younger brother into the expensive clinic, Ray soon becomes 'public enemy No. 1', when some of his fellow cablers recognise his infamous moniker.
Dragging cable through the woods and camping overnight seems like pretty easy money for Ray, but even he is surprised when after checking his earnings at the end of the first day, his 'medallion' shows more than $100,000 in credit.
Realising something is up, he confides in fellow cabler Anna (Madeline Wise), a veteran of five cabling seasons.
She knows all about Lapsis Beeftech and explains his story to a bemused Ray, who now realises what a mess he is really in.
The real intrigue of this movie though, comes from the race the human cablers have to run against the 'robot cablers' – small eight-legged machines that look like robot vacuum cleaners on steroids – and which can lay cable tirelessly for hours on end before needing a recharge.
Not surprisingly, some of the human employees harbour great resentment against these robots; especially since in order to be paid, they are required by the company to always finish ahead of them at the close of each working day.
Even mild-mannered Ray loses the plot by the end of the film, and his frustration is compounded when he tries to withdraw his wages to pay for his brother's exorbitant hospital bills and the transaction is blocked by the system: corporate greed once again stepping in.
Apart from its somewhat unexpected ending, Lapsis is mightily entertaining and well worth a look.
Lapsis is showing at Luna Leederville and Luna on SX from June 3, 2021.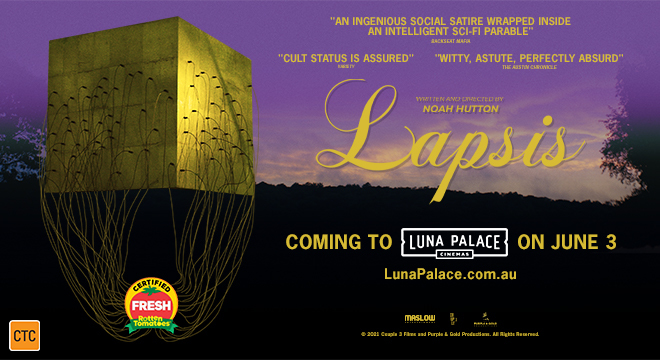 By Mike Peeters