New drama uses humour to highlight sexual repression
Good Luck to You Leo Grande is a quirky and original sex comedy-drama perceptively directed by Sophie Hyde (who made the 2019 Sundance hit Animals) and based on a hilarious script by UK writer and comic actor Katy Brand.
It focuses on Nancy – a 60-something retired teacher and widow (convincingly played by English acting legend Dame Emma Thompson) who after 30 years of marriage, remains sexually repressed and frustrated.
Throughout her entire married life, she has never achieved fulfillment in the bedroom and when her husband passes away prematurely, she is determined to discover the secret to good sex.
To do this, she enlists the services of accomplished sex worker and all-round nice guy Leo Grande (played by Peaky Blinders' star Daryl McCormack) who shines in this difficult role; one in which he is often required to be more of a confidante than a lover.
The laughs come thick and fast as Nancy 'ums and ahs' about what she wants and how, even resorting to providing the unsuspecting Leo with a 'wish list' of bedroom 'tasks' for him to complete with her.
Despite the entire film being shot in an uninspiring and sterile looking hotel room, the witty banter and fast-paced humour ensures the film is never boring.
Nancy has only ever experienced sex with one other person – her late husband – and in her own words that was nothing to write home about.
Good Luck to You Leo Grande also highlights how easily the British, or any nationality really, can take the joy out of sex by 'overthinking' it; particularly in Nancy's case, as it seems it is something she has been obsessing about for the entire period since her husband died.
Her middle-class guilt and anxiety also weaves itself throughout the movie
It is fortunate Leo is such an understanding and forgiving person, although even his powers of patience and tolerance are tested to the full towards the end of the movie.
His role requires a delicate mix of gigolo, sex god and counsellor – all of which he performs with aplomb.
Good Luck to You Leo Grande starts at Luna Leederville and Luna SX on Thursday August 18, 2022.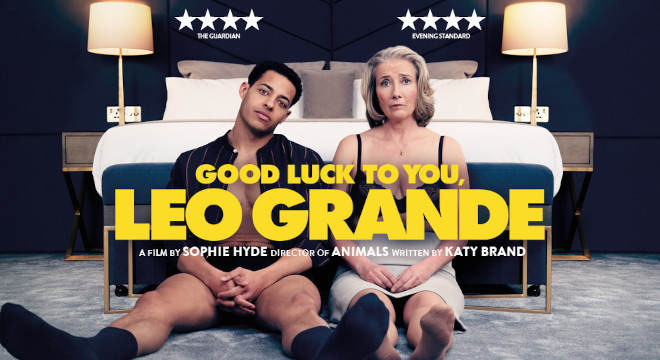 By Mike Peeters
Good Luck To You, Leo Grande; Luna Leederville; Luna on SXX; moviereview; filmreview; mikepeetersmedia
www.mikepeetersmedia.com.au