New Cloudstreet production keeps audience captivated
The recent Black Swan State Theatre Company production of Cloudstreet was a highlight of the 2020 Perth Festival.
An Australian classic, Cloudstreet centres on the lives of two distinctly different Perth families – the Lambs and the Pickles – with both families rocked by separate tragedies.
Superbly brought to life on stage by an outstanding cast under the direction of the incomparable Matthew Lutton, Tim Winton's novel has, arguably, never been better portrayed.
And such is the depth of feeling for this book among countless Australians that anything less would be a travesty.
Running for an impressive five hours, the Black Swan production – adapted by Nick Enright and Justin Monjo – never falters, with the scenes blending seamlessly together as the play weaves its unique magic.
Perhaps the appeal of Cloudstreet is that it is almost a microcosm of Australia itself.
In a nutshell, it is the story of the loose and irresponsible Pickles and the God-fearing, cautious Lambs, who end up sharing a huge, ramshackle house over two decades.
The tragedies involve the head of the Pickles family, (Sam, superbly played by Bert LaBonté), losing his fingers in a winching accident, while the Lambs' favourite son Fish (played by excellent autistic actor Benjamin Oakes) almost drowns, but survives with brain damage.
The contrast between the two families could not be starker.
Sam Pickles is a notorious gambler with an eye for the ladies, while Lamb patriarch Lester, (Greg Stone), is generally pious and hard-working.
The interactions between the two families over 20 years of cohabitation can be quite striking.
For example, in one particularly raunchy scene, the alcoholic, promiscuous Dolly Pickles, (Natasha Herbert), arranges to pay off a gambling loan to Lester Lamb by offering herself as payment.
Never slow to take advantage of an opportunity, the usually conservative Lester moves in quickly to noisily claim his first instalment right there on the stage!
This is just one example of how Lutton has taken Cloudstreet to a new and perhaps, more sensational, level.
The Indigenous content of the play has also been boosted under Lutton's tutelage, with the old house haunted by the shadows of Indigenous Australians.
A former mission for kidnapped Aboriginal girls, the house has a chequered history – with one of the girls dying in the library many years before – ensuring the ghosts prevail and the room soon becomes 'persona non grata'.
In the play, Lester's pious and withdrawn wife Oriel Lamb, (Alison Whyte), portrays a highly conflicted soul.
Torn between protecting her brood from the evils of the Pickles family and making a living in the family grocery store at the front of the house, the highly experienced Whyte puts in a strong and impressive performance.
In summary, Cloudstreet does not disappoint, with perhaps its overly complex plot being the only negative aspect.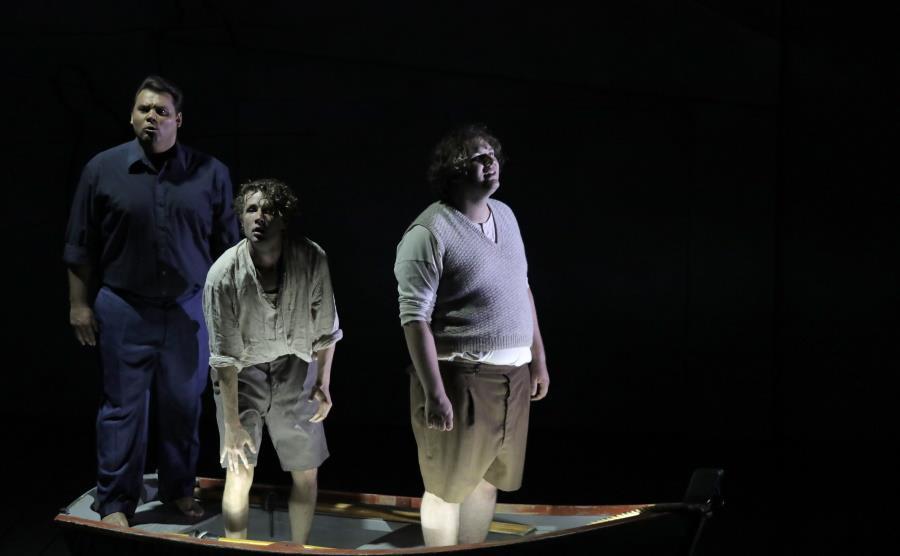 Pic: Courtesy ArtsHub
By Mike Peeters