Never Look Away holds the audience in its spell
Loosely based on the life of renowned German artist Gerhard Richter, Never Look Away is the absorbing and at times mesmerising account of the famous painter's rise to popularity in post-war East Germany.
Written and directed by Florian Henckel von Donnersmarck, best known for his masterful 2006 Oscar-winning drama The Lives of Others, the aptly named Never Look Away is one of the year's best films: holding the audience in its spell throughout.
In the film, von Donnersmarck tells the story of Richter through the eyes of emerging artist Kurt Barnert (masterfully played as a young man by Tom Schilling).
Von Donnersmarck begins his account in 1937 when the six-year-old Kurt (played by Cai Cohrs), is introduced to the notorious 'degenerate art' exhibition as it travels to Dresden.
Taken there by his beloved Aunt Elisabeth (Saskia Rosendahl), the young Kurt is captivated by the paintings of Otto Dix, Franz Marc and other alternative painters.
Unfortunately, at this time, the Nazi regime reigns supreme across Germany in all areas, including art, and as Kurt and Elisabeth tour the paintings, the art gallery's curator is quick to condemn many of the works: calling them 'nihilistic and self-indulgent'.
This experience crystallises Kurt's later artistic struggle between overarching realism and depth and Communistic propaganda – especially after 1961 when Germany was separated into East and West.
Some of the most tragic parts of this film occur around the time of the appalling Dresden bombings in February 1945, when hundreds of thousands of citizens died in the firestorms created by the British and American bombing raids.
In the film, it is at about this time that the health authorities take Kurt's aunt Elisabeth away – following several incidents when she becomes what they perceive to be 'mentally unbalanced'.
The man who makes the diagnosis is the malevolent Professor Seeband (Sebastian Koch) – who is also to play a central role in Kurt's life later on.
It is testament to the brutality and sadism of the Nazis that the wayward Elisabeth is not only listed to be sterilised, but also euthanized, for her 'unstable' behaviour.
Although long (183 minutes), Never Look Away is never boring, and holds the audience's attention throughout.
Watching it right through is also especially rewarding as von Donnersmarck throws in a surprising 'twist in the tale' at the end.
The film is screening from Thursday June 20, 2019 at Luna Leederville, Luna On SX and Windsor Cinema.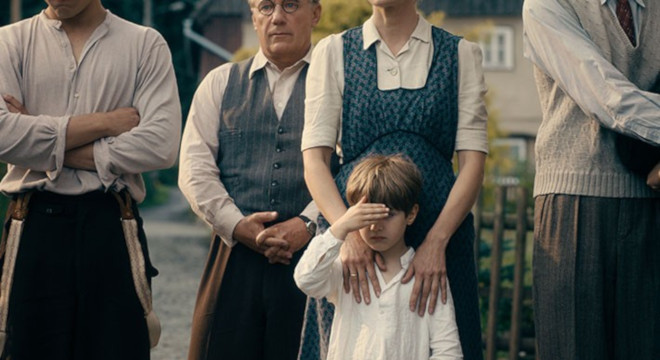 By Mike Peeters
www.mikepeetersmedia.com.au