The Man Who Killed Don Quixote wows the audience
A kaleidoscope of colour – a veritable feast of fantasy.
Terry Gilliam's long-awaited film The Man Who Killed Don Quixote has all the hallmarks of a classic.
Created in the mould of the quirky Brazil and The Three Musketeers, this epic film makes no bones about its surreal and chaotic storyline.
Based on the Spanish novel by Miguel de Cervantes – the story was originally published in 1605.
Since then there have been many attempts at recreating the essence of the 'knight errant': an ingenious old gentleman who lives in a fantasy world – 'reviving chivalry and serving his country' – under the name Don Quixote de la Mancha (played by Jonathan Pryce).
Ably, or not so ably, assisted by his bumbling squire Sancho Panza, Quixote is at first, a reluctant hero.
However, when arrogant and overpaid ad director Toby (played by Adam Driver) stumbles upon a DVD of the original Don Quixote film he had made 10 years earlier, he is immediately energised and driven to recreate the Quixote of old in his current production.
Newly invigorated, he returns to the scene of his first 'passion production' about Don Quixote.
Unfortunately, things have changed dramatically since those early days when he made his first film in the far-flung Spanish village.
The 'Quixote' of those times is now eking out a living as a shoemaker and part-time sideshow curiosity.
When Toby finds him, the years have not been kind, and the now often irrational 'Quixote' immediately mistakes the overblown director for his long-lost sidekick Sancho Panza.
Terrible chaos ensues when Toby's visit also re-opens many old wounds among many of the villagers.
The plot thickens when the Spanish police arrive to arrest a man accused of stealing from the room of the advertisement's major backer: an obnoxious, racist businessman, played by Stellan Skarsgård.
Toby is arrested, and while being driven away by the police, finds himself at the centre of a fantastic scene involving the old shoemaker (as Don Quixote) wildly attacking the police car with his horse, and spearing one of the officers with his lance.
Heady stuff, and while the film is a wild ride throughout, it does leave a little to be desired in terms of plot structure and organisation.
Still, this is Terry Gilliam we are talking about – the former Monty Python stalwart, artist and cartoonist – so all is forgiven.
Joana Ribeiro also plays a great role as Angelica – Toby's former love interest in the original Don Quixote movie.
Unfortunately, her career as an actress post-Toby did not last long, as she eventually turned to escort work when the acting roles ran out, before returning to her village.
The Man Who Killed Don Quixote is showing at Luna Leederville from April 11, 2019.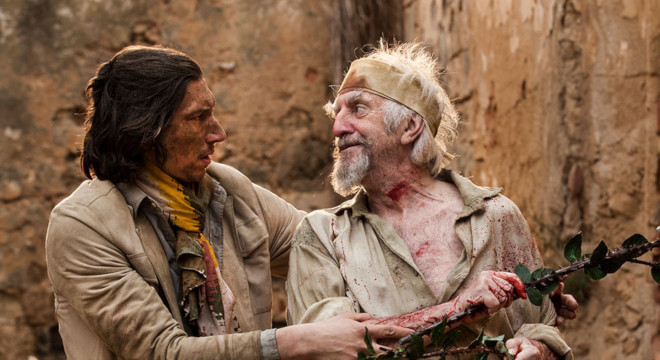 By Mike Peeters