Filipino Australia Day celebrations recognise close ties with the community
More than 300 members of Perth's Filipino community gathered at Riverside Gardens in Bayswater to celebrate Australia Day this week.
Organised by the Filipino Community Council of WA (FCCWA), the Family Fun Day was attended by many dignitaries, including Bayswater Lord Mayor Dan Bull, Philippine Honorary Consul Virma Symons, Cr Michelle Sutherland and James Jegasothy of the Office of Multicultural Affairs.
The day incorporated a Community Recognition Awards ceremony, a Holy Mass held by Rev. Fr. Leonard Guiang and Rev. Fr. Reuben, and a Parade of Colours led by The Knights of Rizal, (Perth Chapter) Samahang Kababaing Rizal.
It also included FCCWA Board Officers, Filipino Community Leaders, and affiliated association members of FCCWA.
Other dignitaries included Cr Steven Ostaszewskyj, Cr Catherine Ehrhardt, Cr Lorna Clarke and Cr Giorgia Johnson.
The Parade of Colours was the showcase for a stirring rendition of both the Filipino and Australian national anthems sung by the San Lorenzo Ruiz Choir.
FCCWA President Angelita Jongko said the day was an outstanding success, with 18 Filipino organisations and community groups receiving Community Recognition awards, including:
The Duterte Supporters Perth WA
El Shaddai Perth Prayer Group
Filipino – Australian Club of Perth Inc.
Filipino Australian Health Workers Association of Western Australia Inc
Filipino Australian Masonic Club of Western Australia Inc.
Filipino Australian Multicultural Association Incorporated
Filipino Australian Skilled Tradesmen
Fiona Stanley Hospital Social Group
Oragon Western Australia Incorporated
Order of the Knights of Rizal
Our Lady of Peñafrancia Western Australia
Perth Pinoy-Aus Sports Club Incorporated
Philippine Educational Theatre Artist of WA
Phoenix Club
Samahang Kababaihang Rizal
San Lorenzo Ruiz Choir
Southwest Filipino Australian Association
Club Sabado.
Bayswater Mayor Dan Bull said he was pleased to be involved in the celebrations and that the City of Bayswater valued the contribution made by the Filipino community to Australian life.
Entertainment included music by local blues band Los Hombres de Blues, performances by the Filipino Australian Basketball Society (FABS), the Zumba Queen dancers, Filipino folk dancing from the Rockingham Sinulog dancers and the Filipino Australian Health Workers Association of WA, as well as many other fashion and dance activities.
There was also a great range of Filipino food on offer, as well as a sausage sizzle, face painting, and a photobooth and jungle gym for the kids.
The event was assisted by the Australian Government through the National Australia Day Council, and sponsors included the FCCWA, Able Purpose-Built Coaches Bayswater, ER Sports Massage (Elizabeth Riley) and Major Motors, Phoenix Club and Foreverliving.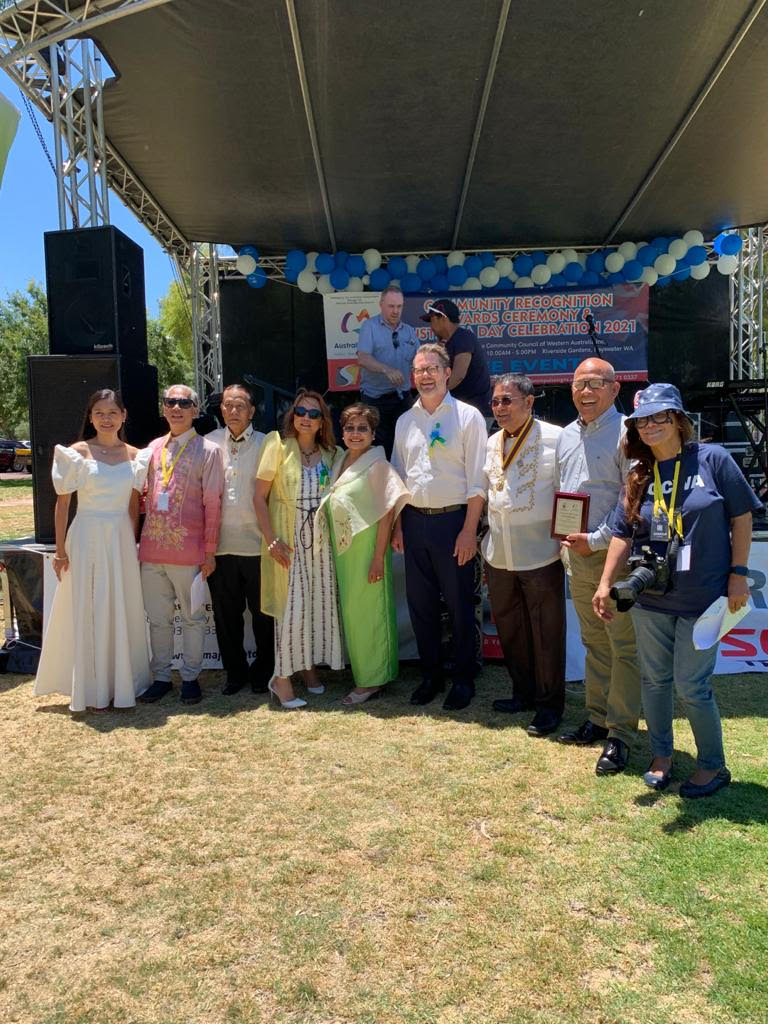 Pic caption: Bayswater Mayor Dan Bull (fourth from right) with Philippine Honorary Consul Virma Symons, (fourth from left), FCCWA President Angelita Jongko (fifth from left) and other dignitaries.
By Mike Peeters
www.mikepeetersmedia.com.au