Dark comedy The Favourite turns period drama on its head
Anyone who has seen Yorgos Lanthimos' previous film, The Lobster, will be familiar with his unrestrained vivacity and unique directing style.
His new dark comedy The Favourite is another wild ride into the unknown: which also encompasses many 'taboos', from homosexuality to sexual domination, in a tumultuous whirlwind of 18th century pomp and circumstance.
Set in the court of Queen Anne (who is superbly played by Olivia Colman) at the height of the Anglo-Franco wars, the film is a study in manipulation.
The plot centres on two protagonists: the powerful Lady Sarah Marlborough (Rachel Weisz) – whose husband, Lord Marlborough, is on a 'glory seeking' mission to raise taxes to continue the French war – and the 'humble' Abigail; a fallen gentlewoman and cousin of Sarah, who comes to the Royal Household seeking gainful employment.
In the beginning all appears rosy, and Abigail is indentured first as a servant girl and later as Sarah's personal assistant.
Things take a turn for the worse, however, when the Queen takes a shine to the younger and more compliant Abigail, who soon upstages Sarah to become the Queen's lady-in-waiting.
The plot thickens as Sarah and Abigail strengthen their manipulative efforts, while also attempting to ingratiate themselves with the Queen, and, in Sarah's case, further her husband's war effort.
Things come to a head when Abigail gains the Queen's full affections (both physically and emotionally) – thus fuelling a 'love triangle' that can always only have one winner.
The Favourite is beautifully acted, with a stellar cast that includes the unusually effeminate Nicholas Hoult, who as Opposition Minister and Member of Parliament Robert Harley, remains firmly against the war.
Throughout the film, Harley does his best to thwart Sarah and her husband's war machinations – including some pretty loathsome attempts to frighten Abigail into becoming his 'spy' in Anne's court.
However, for me, the highlight of this film is Colman's wonderful performance as Anne: the weak-willed yet well-meaning monarch who, although appearing to be at the mercy of others, can change like a chameleon when it suits her.
For instance, when with Olivia, Anne can change from being totally innocent and 'child-like' as she plays with the menagerie of house rabbits that she calls her 'children' – into a state of total anger and despair when she fails to get what she wants.
Anne's poor health is another ongoing issue, as this causes her to become more and more dependent upon the assistance of others: particularly Sarah, and later Abigail as the movie progresses.
The Favourite is well worth a look and opens at Luna Leederville on Boxing Day.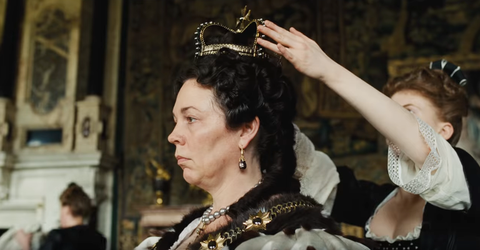 By Mike Peeters