Animals takes audience on a wild ride of drinking and decadence
The new movie Animals, directed by Australian filmmaker Sophie Hyde, should probably have been called Party Animals, considering the copious amount of drinking and carousing throughout.
Always captivating, Animals is the fast-paced story of two, late 20-something best friends living in central Dublin and quite literally, having the time of their lives.
Somehow, in between their boozing and revelling from bar to bar, the two girls still find time to have relationships; and maintain their sanity and sense of humour up to a point.
Things do go a bit awry though when would-be writer Laura (Holliday Grainger) meets talented concert pianist Jim (Fra Fee).
Their relationship soon blossoms into a fully-fledged love affair, although while Laura professes her undying love for Jim, she also remains firmly addicted to the party circuit, along with sidekick and fellow party animal Tyler (Alia Shawkat).
Unfortunately for Laura although Jim has his moments, he is a pretty serious sort of fella', and especially about his career.
Animals, therefore, soon becomes a charismatic vehicle for the rocky ups and downs of two artistic and creative people who both love and lock horns, while expressing themselves in different ways.
Laura is a so-called 'writer', who has in reality, only written 10 pages of her much-anticipated novel in 10 years.
To get her creative juices flowing, Jim suggests simply sitting down at the keyboard and writing, which while frustratingly difficult at first, could be the answer for Laura.
After all, it worked for him as a pianist, someone he describes as a person who simply gets up and plays the piano every day, therefore by definition, a pianist.
His words of wisdom fall on deaf ears.
Laura and Tyler continue to party as hard as before, and despite Jim proposing to Laura and the two of them making plans for their future – including Laura buying a wedding dress – all is not rosy in the garden.
The drinking, debauchery and drug taking increases, especially with Tyler, who is feeling every day of her nearly 30-years, but will never admit she should slow down.
The long-standing friendship between the two girls slowly begins to fray, while Jim also starts to feel 'out on a limb'.
The film is never dull though, with the chemistry between Laura and Tyler making for some hilarious scenes, and some highly embarrassing ones at that.
Like the time Laura gets a bit drunk and accidentally spills her glass of red wine all over her sister's newborn baby.
Well worth a look, Animals commences at Luna Leederville on Thursday September 12.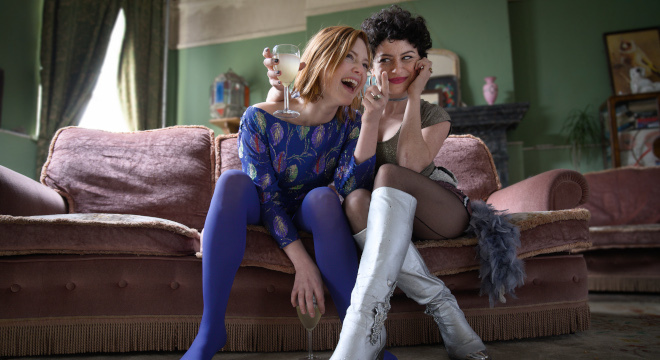 By Mike Peeters