Corporate Writing and Web Content
How good copywriting attracts more customers:
As a copywriter, writing concise, persuasive and engaging copy is key to success – and this applies to any subject area. Whether your target market is education, finance, business or management, you need a 'hook' to attract your readers. Quite simply, bland or boring copy just won't cut it – and as world-famous copywriting guru Neil Patel maintains: "Those users who read a blog post for three minutes are twice as likely to return to that site than those who only read for one minute." That is all the time you have in today's 'time-poor' world.
These days, there is just too much competition for people's attention in all mediums – whether online, in print, or on TV and radio. So the answer is to keep your reader's attention – and hold it for as long as possible. Smart copywriting or blogging achieves this: but only if written well and targeted correctly. One good way to achieve smart copywriting is by using a copywriting 'formula', and there are many of these (you just have to use Google to find them). The beauty of a formula is it allows you to stick to the basics – and to use proven methods to be successful.
Another secret to copywriting success is using powerful language in your writing: i.e. producing blog posts that play perfectly on your emotions and tap into your deepest desires. And they had better be good since each day thousands, if not millions, of new blogs are published, and the competition is fierce! Famous World War Two leader Winston Churchill was a master of engagement – and he filled his speeches with inspiring words that drove emotion, excitement and action. Brevity is another important aspect of good copywriting – especially when writing 'long-form' pieces such as blogs. As already mentioned, the average reader has such a short attention span that adding 'filler' or 'fluff' only serves to drive people away. Quick, snappy headlines are essential: followed by short, powerful sentences that draw the reader in.
A good example is Apple's advertisement for its MacBook below: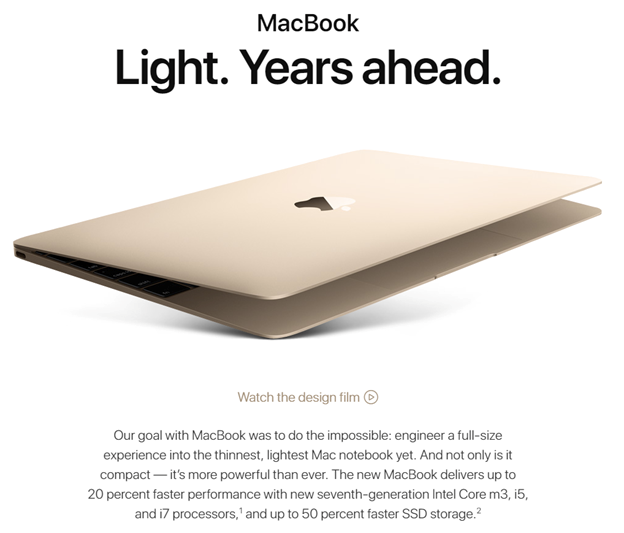 You can also use online tools to help simplify your writing. These include the free 'Hemingway' App, which helps simplify the language in whatever type of long-form writing you do.
Lastly, no matter how much help you get from outside, successful copywriting depends upon using a unique style and tone: one that can only be perfected after writing many many blogs!